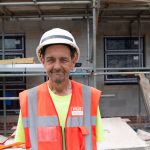 Wayne is a Cadwyn tenant who has taken up support from Realise Your Potential on several occasions over the last few years.  He went on to secure employment, working with Willis Construction on the last two Cadwyn developments.
Wayne is so well thought of by everyone on site for his friendliness and hard work.
Johann Horton, Cadwyn's Senior Development Worker stated:
"I have worked with Wayne for the last year on the Wordsworth Court and Courtenay Road new build schemes. Wayne is often the first face you see when you attend site, always friendly and extremely kind. Wayne does an excellent job and takes pride in what he does."
Another Realise Your Potential member, Dan, recently started a workplace supported by Willis on the Courtney Road development. Wayne was selected to mentor and offer support to Dan during his time at the development.
Dan said:
"Wayne has been amazing and I'm so grateful to him. He has offered me support along with helping me settle into the placement, he makes sure I've always got food and drinks. I've made a real genuine friend."
If you'd like to find out more about Realise Your Potential, call Alessa on 02920434470 or email alessa.hill@cadwyn.co.uk