Two unemployed young people have been hired by Dawnus Ferrovial Agroman as labourers to work on the Eastern Bay Link Road after taking part in a Get Into Construction course that aims to help those aged 16 – 25 gain employment in the building industry.
Over the three weeks the group received training in First Aid, Health and Safety, and went on to gain a CSCS licence which is an essential qualification that proves to employers that you can work on a construction site safely. They then went on to redevelop a piece of land at the Old Library, Splott and gave a presentation about what they had achieved to local construction companies.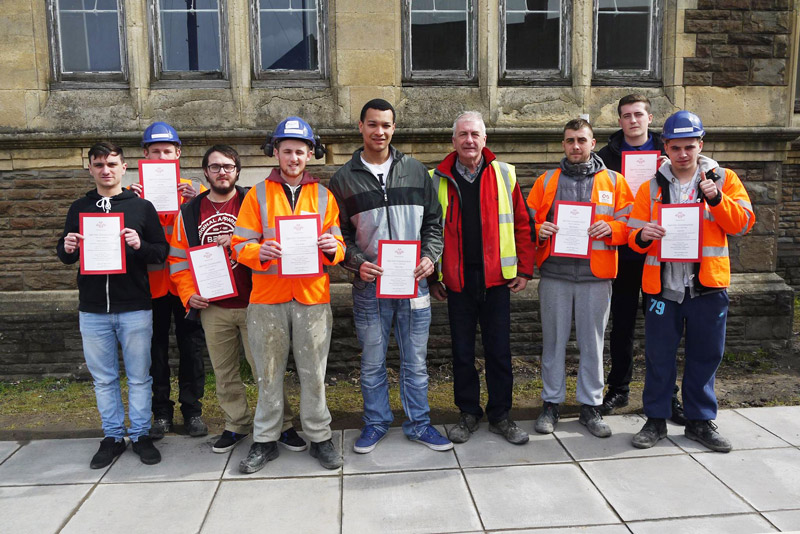 Dayle who gained employment through this course said: "I would like to say a massive thank you to the team for all their help, my life has completely changed because of this and I can't wait to start working".
Michelle Davis, Targeted Recruitment and Training Officer from Cadwyn Housing Association said:  "It's important to Cadwyn that we make opportunities available to those who are the furthest away from the job market. I'm absolutely delighted that two young people have secured work already as a result of the course; and with ongoing support from Cadwyn and The Prince's Trust we expect that several more will follow".
This course was funded by the Dawnus Ferrovial Agroman Joint Partnership, and Capita with match funding from the Prince's Trust and HSBC,this was also run in partnership with Cadwyn Housing Association and Jehu Project Services Ltd.
For more information on this course or others like it please contact the Prince's Trust or visit www.princes-trust.org.uk or phone 0800 842 842