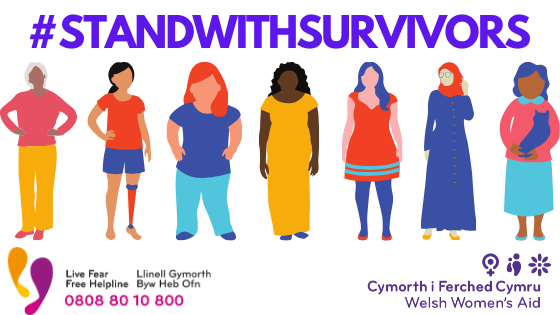 The following blog has been written in partnership with Nazia Azad-Warren (Cadwyn) and Sabiha Azad (Welsh Women's Aid).
Financial abuse is an aspect of 'coercive control'. When we say 'coercive control' we mean a pattern of controlling, threatening, and degrading behaviour that stops someone from having their freedom.  
This type of abuse is happening if someone is using or misusing your money. This can often be your partner or a family member. It can include using credit or debit cards without your permission, signing up for loans, credit cards and overdrafts in your name, and gambling with family 'assets'. This could mean your home, shared money that is supposed to be for bills, and other valuable items you may have.  
Financial abuse often leaves people (usually women) without any money. This means that they struggle for basic things such as food, clothing, and even sanitary products like pads and tampons. Those experiencing this type of abuse often struggle to have access to their own financial independence. This often means that they do not have access to their bank accounts and a lot of debt has been racked up in their name by the person doing the abusing.  
Why does financial abuse happen?  
By restricting someone's m

oney, it creates a barrier to them leaving a harmful and abusive relationship. A lot of people stay in these relationships because they do not have the money to afford somewhere else to live, transport costs to move away, and even the weekly grocery shop.

 

It limits someone's ability to leave which allows the person doing the abusing to continue harming them.  

 

Financial abuse can also happen after someone has left an abusive relationship. The misuse of someone's money can lead a person to accumulate a lot o

f debt in their name.  There can also be issues around perpetrators of abuse controlling the money that is supposed to be for child maintenance.

 
What do the experts say?  
Welsh Women's Aid, Community Engagement Officer Sabiha tell us that,  
"For survivors of abuse to get help, they need to be able to identify that financial abuse has occurred and be able to disclose to another person in a safe and confidential way.

Survivors will often turn to their friends, families, and their communities, to talk about what they are going through. How those closest to the survivor responds, affects whether they can access the specialist support they need."
It can be difficult knowing what to say to someone who is experiencing financial abuse. Welsh Women's Aid have created a Bystander Toolkit to help communities. This guide includes advice and information for concerned families, friends, and neighbours. This information ensures that everyone can safely raise awareness and signpost survivors of abuse to specialist support.  
How to act safely and how to support:  
Listen and believe survivors. You may be the first person that someone has spoken to about what they are 

experiencing. By listening and believing them you can help them in their journey to seeking help. 

 

Acknowledge and validate the survivors' concerns. Survivors may talk about feeling nervous, scared, and worried. These concerns are normal for people experiencin

g abuse. When people feel that their worries are taken seriously, it can make them feel safer.  

 

Stay alongside survivors! People experiencing abuse are the experts in their situations. 

 

Signpost to Support – 

Live Fear Free

 helpline: 

0808 80 10 800

 

            

 

Live Fear Free is a 24-hour helpline available for everyone seeking advice and information. You can speak to the advisors in any language.

 
If you are concerned about the survivor's immediate danger, contact 999 right away.  
One final thing…  
If you think you or someone you know may be experiencing financial abuse or any other type of abuse, contact the Live Fear Free helpline.  
Financial abuse can have a devastating impact on people, do not ignore a situation that does not feel right to you.