To provide good quality homes and build communities through partnership and innovation.
We want to achieve thriving communities.  To be rooted in our community, providing homes and opportunities to transform people's lives for the better.
Our values guide what we do and how we do it.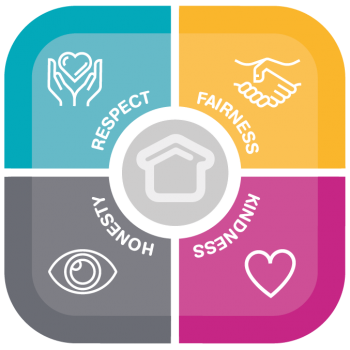 What difference do we make?
There are four key results we are aiming to achieve through everything we do. These are:
Existing homes; people live in well-managed and maintained homes, which are safe, comfortable and energy-efficient
New homes; we increase the supply of new affordable and environmentally sustainable homes for those in need
People; we work with our tenants and communities so that they thrive
Our business, we are a successful and independent social business valued for our contribution
Embracing Equality, Diversity and Inclusion is essential for Cadwyn to thrive as a business where people of all backgrounds can come together and achieve success. Our People Strategy aims to have a thriving organisation, thriving workforce and thriving individuals and this strategy is key to achieving this. In developing this strategy we; the leadership team and the Board, wanted not just the final strategy document, but to raise the conversation about what equality means, why we should be bothered with it at all levels, and what we want from such an action. We wanted to start the conversation – a conversation which was made even more poignant by the killing of George Floyd and the subsequent challenges to us about our responsibilities as a key provider of housing and other services rooted in Cardiff.
Click link below to read Cadwyn's Equality and Diversity Strategy
Through monitoring and evaluating our work we can make sure that people are better off as a result of the things we do.