To provide good quality homes and build communities through partnership and innovation.
We want to achieve thriving communities.  To be rooted in our community, providing homes and opportunities to transform people's lives for the better.
Our values guide what we do and how we do it.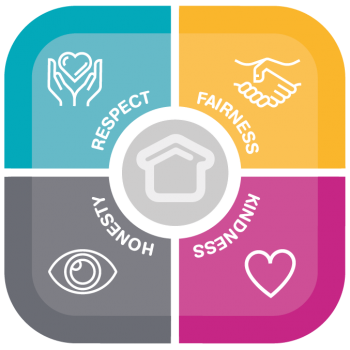 What difference do we make?
There are four key results we are aiming to achieve through everything we do. These are:
Existing homes; people live in well-managed and maintained homes, which are safe, comfortable and energy-efficient
New homes; we increase the supply of new affordable and environmentally sustainable homes for those in need
People; we work with our tenants and communities so that they thrive
Our business, we are a successful and independent social business valued for our contribution
We believe it's really important to treat everyone fairly, and with dignity and respect.
We believe that everyone matters and we actively promote equality, diversity and fairness.
We embrace people with diverse backgrounds, skills and cultures.
We want you to feel that
you're valued as an individual and treated with courtesy
you get fair access to our services
we make reasonable adjustments where we can to meet your needs
Working to the commitments contained in our policy we will positively promote equality and diversity in all areas of our work and challenge behaviour which does not accord with Cadwyn's values.
Our aim is that all our employees, job applicants, residents, housing applicants, Board members and other agencies and partnerships feel valued and respected and are encouraged to participate and contribute.
We believe that everyone has an individual role to play and that we benefit from the unique contributions that different people can make.
We want to make sure that our services are accessible and fair for all of our customers, collecting information about our customers to ensure that we do what matters to them and accommodate their needs and preferences.
If you feel you have been unfairly treated, contact us – you can use the complaints procedure or contact a member of staff that you're happy to talk to.
Through monitoring and evaluating our work we can make sure that people are better off as a result of the things we do.